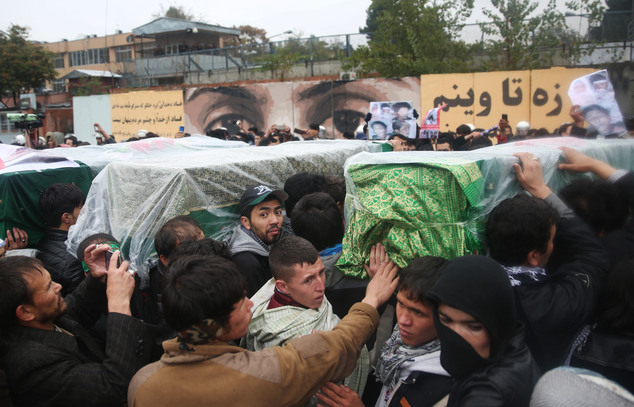 By Associated Press
KABUL, Afghanistan (AP) — Afghan presidential guards opened fire on Wednesday to disperse thousands of protesters marching outside the palace compound in Kabul to denounce recent abductions and killings of seven members of the Hazara Shiite minority.
The shooting, which the Public Health Ministry said wounded seven people, occurred as some of the demonstrators tried to scale the walls of the palace at Pashtunistan Square. It was not immediately clear if President Ashraf Ghani was inside the heavily fortified palace at the time.
Shortly afterward, Ghani went live on national television, appealing for calm and promising the Hazara deaths would be avenged. "The nation's pain is my pain," he said, vowing the authorities would have "no mercy" on the killers.
The coffins of ethnic Hazaras who were allegedly killed by the Taliban are carried during a protest march in the Afghan capital of Kabul on Wednesday, Nov. 11, 2015. Written on the wall in Farsi reads: "I see you."(AP Photos/Massoud Hossaini)
Ghani said "enemies of Afghanistan" were trying to create disunity and "bring ethnic and sectarian violence" to the country as they had done in Iraq.
Earlier in the day, about 10,000 rallied in the center of the Afghan capital, carrying coffins of the seven Hazaras whose beheaded bodies were found on Saturday and calling for a new government that could ensure security in the country.
"About 100 people were trying to get into the palace by climbing over the wall," said Ahmad Sharif, 36, who took part in the rally. He said he saw one protester hit by gunshots.
Kabul's deputy police chief Gul Agha Rouhani said security forces shot in the air to disperse the protesters trying to scale the palace walls. He could not confirm reports of injuries.
Later, riot police took up positions at the gates as a tense calm returned to …read more
From:: Hazara People