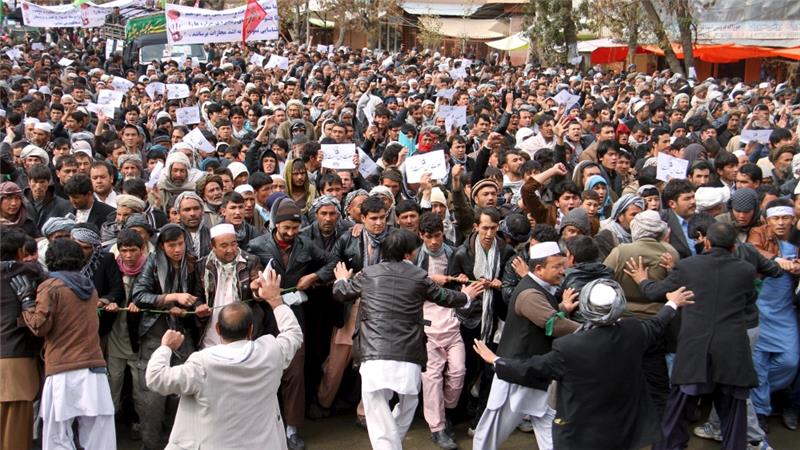 By Mustafa Andalid
Afghan men protest to condemn the killing of seven Hazara ethnic minority that were kidnapped and killed by Islamic State militants in Ghazni province, Afghanistan, November 10, 2015. Reuters/Stringer
A protest convoy drove the bodies of seven members of Afghanistan's minority Hazara community to the capital Kabul on Tuesday to protest against their murder by unknown militants, who dumped their partially beheaded bodies at the weekend.
The killing of the seven Hazara, including three women and two children, during fighting between rival Taliban factions and Islamic State sympathizers, highlighted the risk of worsening sectarianism amid daily violence sweeping Afghanistan.
The mainly Hazaras have long suffered ill-treatment and persecution in Afghanistan, with thousands massacred by al Qaeda and Taliban militias in the 1990s.
This year, a series of kidnappings and murders of Hazara fueled fears that the group was being deliberately targeted, and the latest killings in the southern province of Zabul triggered a furious wave of reaction on social media.
Tuesday's protest convoy underlined the anger among Hazara and followed a march by some 2,000 people in Ghazni, a city in central Afghanistan with a large Hazara community, where the bodies were first taken from Zabul.
Bearing the coffins of the dead aloft and chanting slogans against the Taliban, Islamic State and the government in Kabul, the crowd demanded punishment for the killers.
"We ask the government to find the reason behind this serial killing of Hazaras in Afghanistan and bring the perpetrators to justice," Ghulam Ali, a protester, said.
TALIBAN "PROPAGANDA"
Provincial officials initially blamed the killings on Islamic State militants, and there were unconfirmed reports that the perpetrators had been caught and summarily executed either by local residents or Taliban.
However, Afghanistan's National Directorate of Security (NDS) intelligence agency rejected the reports as Taliban "propaganda".
Separately on Tuesday, Afghan security forces freed eight Hazara, part of a …read more
From:: Hazara People