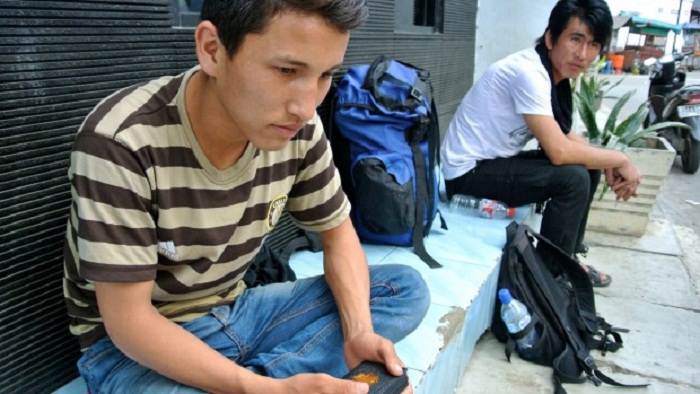 By Michael Bachelard
Jakarta: For Sardar "Sammy" Hussein, barely more than a boy, the words he's whispering under his breath have become almost a mantra: "What should I do? What should I do?"
We're sitting on a doorstep across the road from the United Nations High Commissioner for Refugees' office in central Jakarta, which has become the outdoor sleeping quarters of a shifting, multicultural band of asylum seekers with no money and nowhere else to go.
Homeless: Sardar "Sammy" Hussein, originally from Afghanistan, is camped out in front of the UNHCR office in Jakarta. Photo: Michael Bachelard.
Hussein, a Hazara from Afghanistan, is the newest arrival. He's 15 and has bedded down here since arriving in Indonesia a week ago.
Hussein says he did not know when he left Afghanistan about Scott Morrison's new policy to ignore refugee applications from people who arrived in Indonesia after July 1. He knows now that he will never get his wish of resettlement in Australia, but says he probably would have come anyway. He feels he had no choice.
"My mother was sick . . . and she wanted to go from Jaghory to Kabul for the doctor. On the way, beside the road, there was a bomb. When they got close in the taxi, the bomb exploded," he says.
Uncertain future: Sardar "Sammy" Hussein, a new arrival in Indonesia from Afghanistan is now wondering what he will do after Scott Morrison's hardline policy changes. Photo: Michael Bachelard
Hussein's mother, father and sister were all killed. He fled for his life, selling the family's possessions and paying a people smuggler $US6000 ($7200). Now he has no money and faces an indeterminate wait in Indonesia, where he cannot go to school or earn a living.
"I don't know what I should do. How can I continue?" he asks in tentative English. …read more
From:: Hazara People