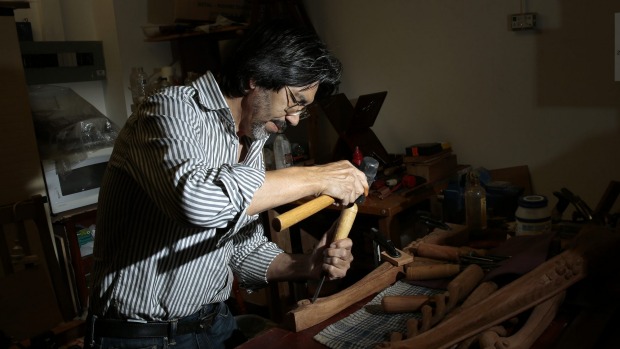 Hazara People note: We do respect all ethnic groups, but Hazara People are not Afghan. Afghan or Pashtun is another ethnic group in Afghanistan.
by David Ellery
Afghan refugee and craftsman Hashmat Shafaq working on a table leg in his store Rosewood Furniture in Woden. He was a woodworker in Afghanistan before he came to Australia in 1999. Photo: Jeffrey Chan
Hashmat Shafaq has the Afghan Communist party to thank for his becoming an old world carpenter who uses ancient skills to craft exquisitely carved furniture at his Woden workshop.
The 58-year-old was born in Behsood, near Kabul, to a middle class family.
"My father was a shopkeeper," he said. "We had the equivalent of a small community supermarket.
"I liked to study but when I was 13 or 14, the communists came. They wanted a secular state and targeted all Muslims, especially Hazara like us."
Within a short time membership of the communist youth organisation had become almost mandatory and Shafaq realised no matter how hard he worked he would not get good marks unless he effectively renounced his faith.
"I told my father and he said, 'forget school', and took me to a woodworking factory owned by one of his friends," he said.
"It was quite small and employed 10 or 12 men; the youngest workers were 12 or 13 and the oldest were in their 30s and 40s."
Skills were taught in time-honoured ways with apprentices starting off on small jobs and then working up to bigger ones.
"You watched, you learnt and then you tried it yourself," Shafaq said. "If it wasn't good enough you were made to try again."
Wood carving was a special skill.
"Woodcraft was not difficult for me; I learnt wood turning very quickly. One of my friends [in the factory] was a carver. I watched him and then I picked up …read more
From:: Hazara People