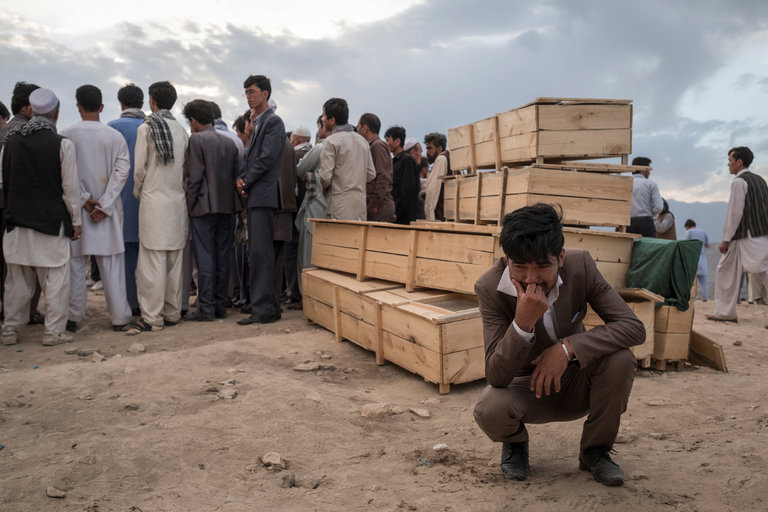 By MUJIB MASHAL, ZAHRA NADER and JAWAD SUKHANYAR
KABUL, Afghanistan — One after another, the bodies arrived on the steep hill in western Kabul.
For much of Sunday afternoon, an excavator was flattening the dusty area as men with shovels and pickaxes dug graves — four rows of 20 or so, packed so close that if the dead could stretch out their arms, they would touch those next to them.
In the hours that followed, nearly two dozen of the at least 80 protesters killed in a bombing claimed by the Islamic State on Saturday were buried here, in overlapping ceremonies that blurred into one large scene of public mourning. As the final prayer for one body lowered into a grave was being recited, dirt was shoveled onto another body at the next.
"Oh, brothers, slow! Slow!" one mourner at the grave of Muhammad Hassan, a 25-year-old construction worker killed in the bombing, urged the men piling dirt over the next grave. Dust covered the white turban of the mullah who crouched over Mr. Hassan's headstone, reading from a little book of prayer.
The attack on peaceful protesters in Kabul — who were mostly from the Hazara ethnic minority — stirred an international outcry, in part because it was the first time that the Islamic State's leadership in Syria had claimed responsibility for such a deadly strike in Afghanistan.
But some here voiced skepticism that the terrorist group, whose fighters in Afghanistan are concentrated in the east, was behind it. The detail hardly seemed to matter to others, who see the bombing as another in a long procession of attacks born of a chaotic and unending war. Many of the mourners burying their dead on the hill, or continuing their protest near a convention center, bitterly accused the Afghan government of failing to protect its people …read more
From:: Hazara People